J-G1
Powder
This powder brush blends Ag-TAfrE®, a thicker material with antibacterial properties that is soft on the skin, with the softer skin touch of TAfrE®. The brush offers a gentle touch on the skin like natural hairs, while the volume of bristles holds ample powder for applying softly with the tip.
Hair material

Ag-TAfrE®/TAfrE®
(synthetic fibers)

Shape

Flat-round

Total length

167

[mm]

Hair length

52

[mm]

Price

JPY 7,700.00
● Hair length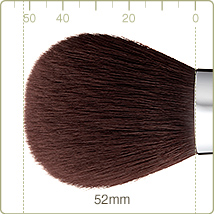 ● Feeling




How to use
Powder brush
At present we sell our production to USA,CANADA,EUstates,Hong Kong,Taiwan,Singapore,Thailand,Switzerland.
We Hope for your kind understanding.

After your purchase, in some cases we will send you an identity confirmation e-mail.
In the case identity verification, via reply to said e-mail, is not possible, we might be unable to process the credit card transaction. Please understand.