J-G6
Eyebrow
This eyebrow brush features a wider tip. The tightly clumped fibers are less likely to spread out, allowing you to maintain fine, detailed lines. The elasticity of the fibers is just right for drawing crisp lines on the eyebrows.
Hair material

Ag-TAfrE®
(synthetic fibers)

Shape

Diagonal

Total length

118

[mm]

Hair length

8 / 5.5

[mm]

Price

JPY 2,530.00
● Hair length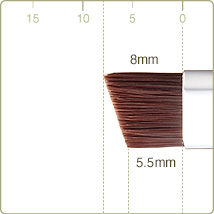 ● Feeling




How to use
Eyebrow brush
At present we sell our production to USA,CANADA,EUstates,Hong Kong,Taiwan,Singapore,Thailand,Switzerland.
We Hope for your kind understanding.

After your purchase, in some cases we will send you an identity confirmation e-mail.
In the case identity verification, via reply to said e-mail, is not possible, we might be unable to process the credit card transaction. Please understand.