Z-11
Blending
An eye shadow blending brush (to mix colors and blend them into the skin). You can use as many colors as you like and create beautiful gradations. You can also enjoy the natural colors unique to the brush which is made of 100% gray squirrel hair.
Hair material

Blue Squirrel

Shape

Round

Total length

135

[mm]

Hair length

20

[mm]

Price

JPY 3,960.00
● Hair length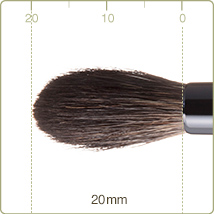 ● Feeling



● Customer reviews (3)

Excellent
Great blender, just what I needed. I like blenders made out of squirrel hair in this round shape. I have sensitive eyes and this brush is fabulous. One of my favorite blenders.
Very Good Good / Average
I love all my other z series brushes but I got a dud brush that had an unpleasant smell. It wasn't squirrel smell. It was something else. I purchased another z-5 and z-11 from another retailer (most likely from another batch) and I am happy to report the second brushes don't have that problem. Lovely brushes overall. I like the thickness and shape and functionality.
CHIKUHODO Staff
Thank you for your comments. Perhaps it's smells of glue which joint brstile and ferrule, or smell of handle paint. Especially for during international shipping, it happens depends on delivery environment and you may feel it when open from parckage. Please keep using them and smell will disapear guradualy.
Average
As a blending brush, the hair is too long and narrow.

At present we sell our production to USA,CANADA,EUstates,Hong Kong,Taiwan,Singapore,Thailand,Switzerland.
We Hope for your kind understanding.

After your purchase, in some cases we will send you an identity confirmation e-mail.
In the case identity verification, via reply to said e-mail, is not possible, we might be unable to process the credit card transaction. Please understand.