T-13
Foundation
While still retaining the shape of our popular "puff brush," we have improved the quality of the brush materials by upgrading from sokoho goat hair to saikoho goat hair, the highest-quality goat hair which is found under the goat's jaw and along its back, in order to pursue an even more luxurious feeling on the skin.
The uniquely rounded tip of this brush firmly adheres to the contours of your skin to provide perfect coverage. The overall finish is not only more natural looking than sponge application, but also less prone to makeup deterioration. This brush can be used with both liquid and cream foundations.
Hair material

"Saikouhou"
HQ Goat

Shape

Round

Total length

145

[mm]

Hair length

30

[mm]

Price

JPY 9,900.00
● Hair length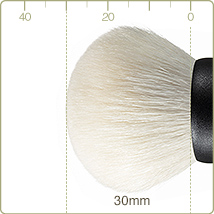 ● Feeling




How to use
Eye shadow brush
● Customer reviews (2)

Excellent
Nicely packed dense very soft goat brush. I am a huge fan of the T series. I will have to complete my collection and buy all the other ones that I don't have. All of them have pristine bundling too which I appreciate.

At present we sell our production to USA,CANADA,EUstates,Hong Kong,Taiwan,Singapore,Thailand,Switzerland.
We Hope for your kind understanding.

After your purchase, in some cases we will send you an identity confirmation e-mail.
In the case identity verification, via reply to said e-mail, is not possible, we might be unable to process the credit card transaction. Please understand.